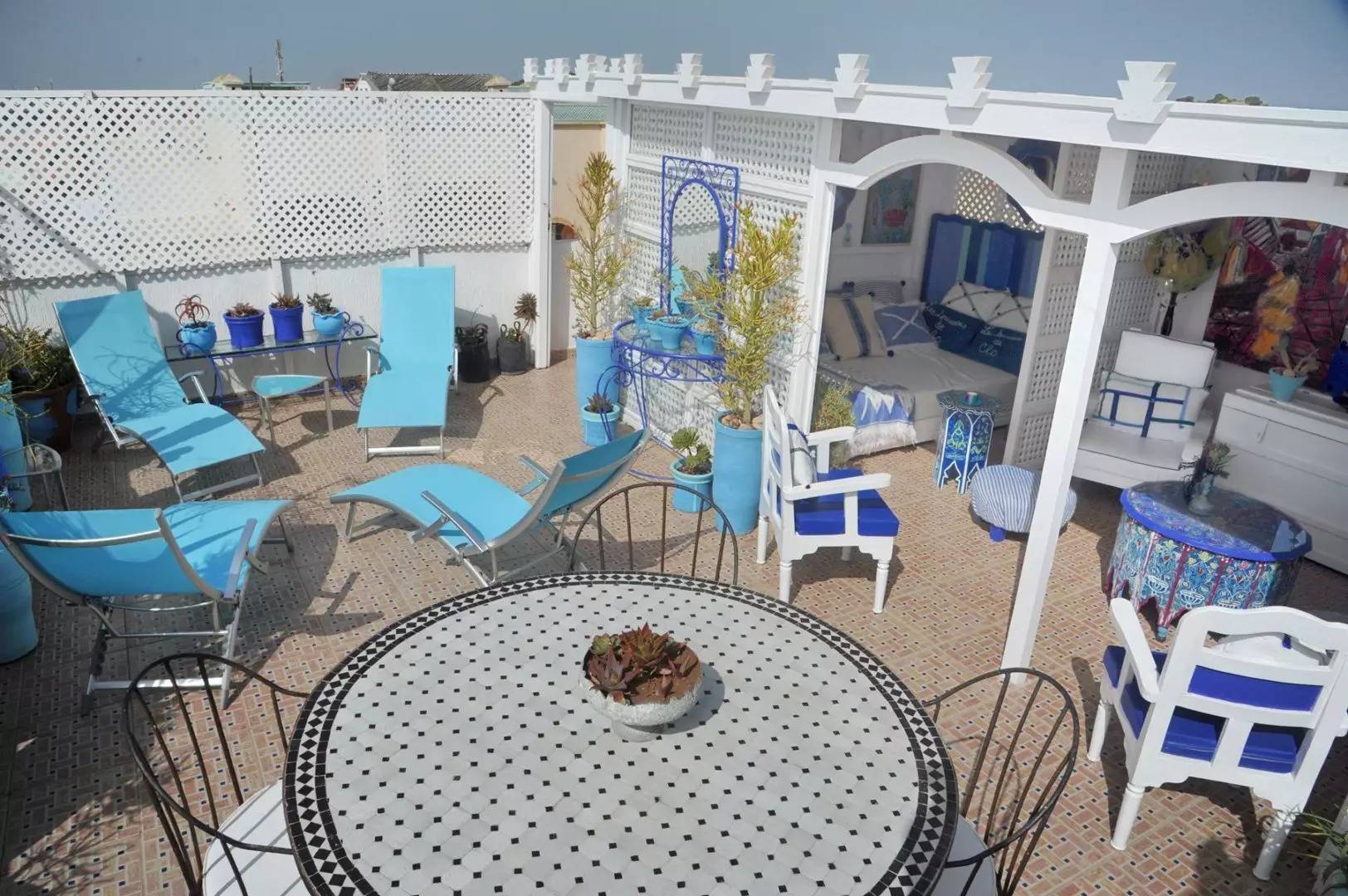 Location: The location of this exceptional place is ideal, on the terrace, on the 3rd floor of a modern building consisting of only 3 apartments. Access is easy, the area is clean and very quiet. It is ideally located, 600 m from the beach, near the green belt (huge protected natural forest).
Small and large shops are nearby (including a Carrefour super market 200m away).
This new apartment, decorated with refinement, is located in a residential area of the new city, all the windows are doubled (phonic and thermal insulation), (the decoration was carried out by its owner; creator/decorator by profession).
Touches of color and a warm atmosphere emanate from this unique place. It is carefully furnished and equipped. You are guaranteed an unusual stay between hospitality and a change of scenery, idleness and comfort.
The owners wish to receive a maximum of 4 people (a cot for an additional tenant is however provided). The apartment has a total space (including terraces) of 165 m2 (first level: 105 m2; apartment 65m2 and terrace 40m2; second level: terrace 80 m2).
Level 1: 2 bedrooms, one of which is modular with cupboards and storage (see photos), a tadelack bathroom with walk-in shower, 1 WC, a living room with fireplace, a dining room with a table for 6, a fully equipped kitchen (4-burner gas hob integrated into the worktop, ventilated cold fridge/freezer, washing machine, table and steam iron, multifunction oven (convection, grill, microwave, combined heat), coffee maker, toaster, etc. which opens directly onto a first terrace of 40 m2.
This has an equipped dining area, mosaic table, chairs, benches, ornamental fountain (adjoining the kitchen). As well as an "all-weather" frame of 12 m2, fully protected and able to be closed. For suitcases, a protected and closed storage space is provided to free up space after your installation. You also have a flat-screen satellite TV (TNT, French channels, etc.), a CD player, and a Wifi modem for the Internet. Sheets, towels and all linens are provided (you only need to provide your beach towels).
Level 2: Access is directly via a classic staircase. You have a 60 m2 solarium, covered over 20 m2, with a view of the sea and the island of Mogador, offering deck chairs (4), dining table, chairs, kitchen area with table and sink, lounge area with armchairs and poufs and pleasure room with daybed.
The whole is protected from the "souiris" winds by an access door to the terrace and insulating glazing. This level is ideal for sunbathing and long "idle" sequences.
Description produced by Immobilière d'Essaouira © all rights reserved
Most :
- Deco, fashion and art magazines, beautiful books on Morocco, novels are at your disposal.
- A detailed description of the places (wifi access codes, mode, employment, etc.).
- The original decoration (paintings, mirrors, old chandeliers as well as the "redesigned" traditional tables, bring an artistic and oriental note giving a soul to this apartment.
Review by Immobilière d'Essaouira © all rights reserved