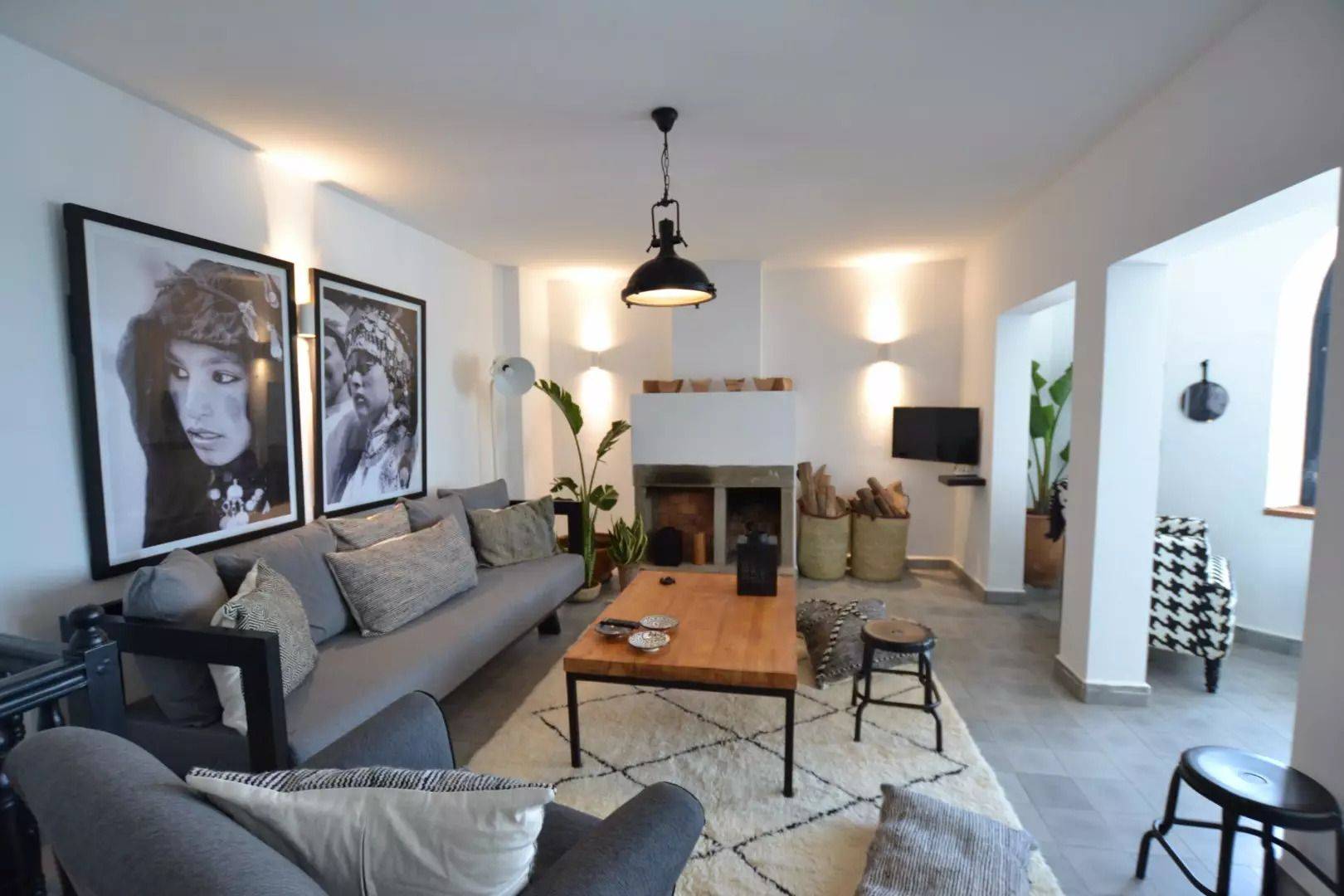 Construite à la fin du XVIIIe siècle, c'est le coeur historique de la ville et le principal centre d'activité avec le port. Entourée d'une muraille de style Vauban, la Medina est protégée par des fortifications où le style européen se mélange harmonieusement avec le style arabo-musulman. La Sqala de la Kasbah est un exemple accessible et ouvert au public de ces fortifications où les murs subissent encore les assauts de l'océan. A l'intérieur, le dédale des ruelles partage les quartiers et les différents souks. Assez organisé malgré tout, le souk propose tout type de produits. Les vêtements y côtoient les épices, les colliers, bracelets et autres articles succèdent aux olives et autres fruits et légumes. On y trouve de nombreux restaurants où le poisson frais pêché de la matinée est cuisiné au déjeuner ou au dîner. De nombreux autres plats typiques sont aussi proposés et il fait bon s'arrêter sur une terrasse, à l'ombre rafraîchissante des arbres. La Medina a été classée au Patrimoine mondial de l'UNESCO en 2001.
Completely renovated and refurbished in 2019 to become a place dedicated to luxury rentals, this property enjoys an exceptional location in the medina of Essaouira.
The building rises on 5 levels, the last 3 of which offer a breathtaking view of the ocean and the movements of the tides on the surrounding walls of the medina.
Access is quick and easy from Place Moulay Hassan and the Bab Sbaa car park.
The front door leads to a staircase serving the 1st level, offering a view of the battlements of the ramparts from each room: a hall, a suite and its 160 bed with bathroom, cupboards.
The 2nd floor houses a reception hall, a bedroom with a 160 double bed, a living room with TV and a staircase leading to a mezzanine dedicated to children, with 2 single beds and a bathroom.
The 3rd level shares a hall, a master bedroom equipped with a fireplace and a 160 bed and its bathroom.
The 4th plateau is dedicated to the living space: a living room with fireplace and television, an area dedicated to meals and an equipped kitchen arranged in open space and thus allowing a fantastic and privileged view of the comings and goings of the waves.
Access to the outdoor terrace sheltered by a pergola via a spiral staircase. Here, you can enjoy a 360° view of the city, contemplate the aerial dives of gulls, have a drink while watching the sun sink into the sea on the horizon line.
Description produced by Immobilière d'Essaouira © all rights reserved
- Broadband ADSL internet
- televisions with European channels
- Nespresso coffee maker
- BOSE Bluetooth speaker
- Possibility of kitchen services and childcare (concierge service offered by Immobilière d'Essaouira)
- Maximum capacity 8 people
- New and brand bedding
- High quality linens and towels
- Ideal for family or group of friends
- Neat and trendy decoration, comfort guaranteed
Review by Immobilière d'Essaouira © all rights reserved
Wifi
Terrasse
Vue sur mer