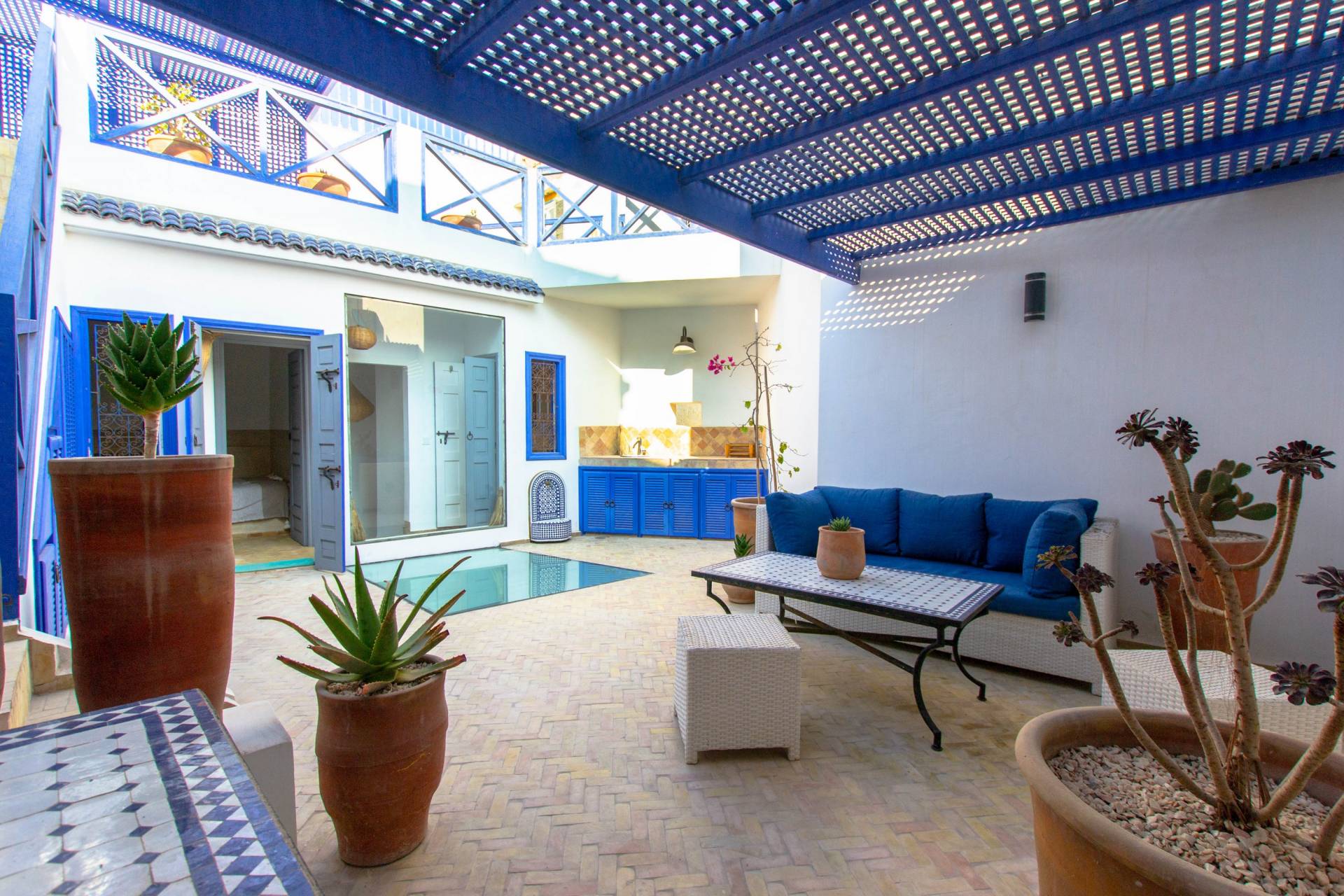 Construite à la fin du XVIIIe siècle, c'est le coeur historique de la ville et le principal centre d'activité avec le port. Entourée d'une muraille de style Vauban, la Medina est protégée par des fortifications où le style européen se mélange harmonieusement avec le style arabo-musulman. La Sqala de la Kasbah est un exemple accessible et ouvert au public de ces fortifications où les murs subissent encore les assauts de l'océan. A l'intérieur, le dédale des ruelles partage les quartiers et les différents souks. Assez organisé malgré tout, le souk propose tout type de produits. Les vêtements y côtoient les épices, les colliers, bracelets et autres articles succèdent aux olives et autres fruits et légumes. On y trouve de nombreux restaurants où le poisson frais pêché de la matinée est cuisiné au déjeuner ou au dîner. De nombreux autres plats typiques sont aussi proposés et il fait bon s'arrêter sur une terrasse, à l'ombre rafraîchissante des arbres. La Medina a été classée au Patrimoine mondial de l'UNESCO en 2001.
Located at the bend of a quiet alley in the Medina, a few steps from the main car park in the city center, this perfectly decorated Riad will delight its guests.
From the ground floor the tone is set. The warm colors of the wood mingle in soft harmony with the elegance of the materials (patchwork of cement tiles on the floor, waxed concrete, wrought iron, etc.).
The fully equipped kitchen is open to give way to space. Fridge, microwave, 5-burner gas stove, double oven, dishwasher, washer-dryer, Nespresso coffee maker, multi-tasking robot, extractor hood, nothing is missing here to cook (or have someone cook) like at home!
The ground floor also offers a guest toilet, a storage cupboard, a spacious shower room with toilet and a family bedroom with a double bed, a rest area and a mezzanine to accommodate a child.
By taking the all-wooden staircase, access to the living room is just as warm. Here, natural light sets the tone. The nuances are revealed thanks to the wide safety glass cover which offers a perfectly sunny opening of the patio. The advantage of this room is the solid and comfortable hammock which allows you to rest at all hours and enjoy the sun entering during the day or the starry sky in the evening. This first floor also has an office space with a view of the alley (fiber optic wifi), a bedroom with a double bed and an extra bed, and a spacious bathroom with a large bathtub, heated towel rail, large basin and high mirror.
On the upper floor, a new atmosphere welcomes its guests. Here, the sun sets its signature and offers a generous atmosphere.
A 3rd double bedroom and an "inside/outside" style shower room thanks to the outside light form the link through a large bay window with the terrace in bluish hues reflected by the ambient sun. A summer kitchen area is available (with barbecue, water point, storage cupboards). A lounge area and a dining area enhance the whole, and invite you to enjoy sweet gourmet and convivial moments.
Just climb a few more steps to access the solarium. Here, no vis-à-vis, the azure sky is the only witness of the present moment and the eye is lost at leisure between the roofs of the Medina.
A shaded and furnished pergola calls for extended breaks whatever the season, throughout the year.
A true haven of peace, at the center of everything, this Riad is the perfect balance between charm and comfort, calm and activity of life in the Medina. To discover absolutely….
Capacity: 6 people (3 double bedrooms)
Wifi by fiber optic
Centralized VMC
Housekeeper present once a week
Entry and exit cleaning included
Linens provided
Easy access to parking, souks and shopping streets
Proximity to restaurants
Proximity to the beach and the port
Description produced by Immobilière d'Essaouira © all rights reserved