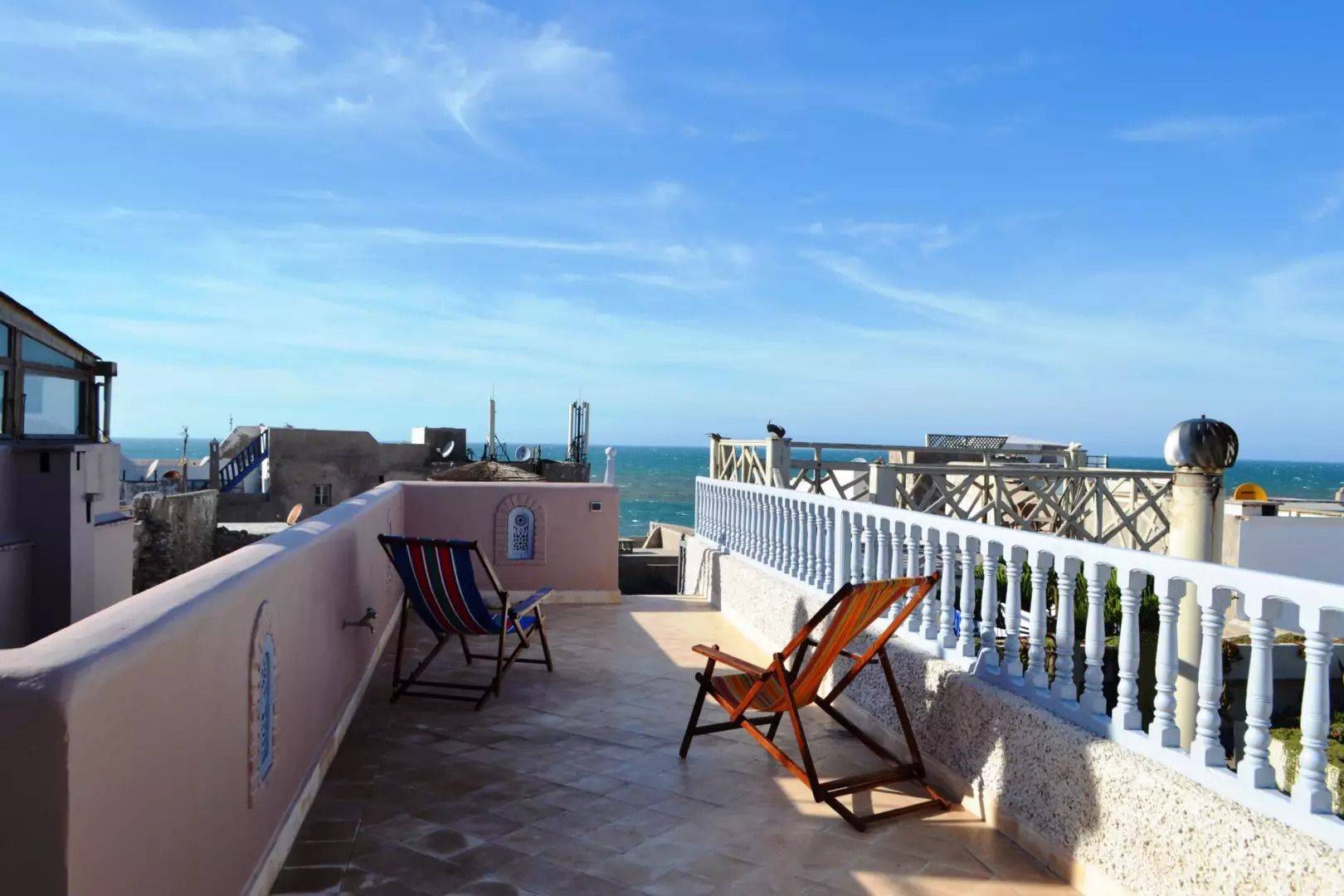 Construite à la fin du XVIIIe siècle, c'est le coeur historique de la ville et le principal centre d'activité avec le port. Entourée d'une muraille de style Vauban, la Medina est protégée par des fortifications où le style européen se mélange harmonieusement avec le style arabo-musulman. La Sqala de la Kasbah est un exemple accessible et ouvert au public de ces fortifications où les murs subissent encore les assauts de l'océan. A l'intérieur, le dédale des ruelles partage les quartiers et les différents souks. Assez organisé malgré tout, le souk propose tout type de produits. Les vêtements y côtoient les épices, les colliers, bracelets et autres articles succèdent aux olives et autres fruits et légumes. On y trouve de nombreux restaurants où le poisson frais pêché de la matinée est cuisiné au déjeuner ou au dîner. De nombreux autres plats typiques sont aussi proposés et il fait bon s'arrêter sur une terrasse, à l'ombre rafraîchissante des arbres. La Medina a été classée au Patrimoine mondial de l'UNESCO en 2001.
Location: The medina is surrounded by ramparts, on an almost island jutting out into the ocean. On both sides, long sandy beaches.
The preserved authenticity of the places has earned the old town to be classified as a UNESCO World Heritage Site.
The riad is located in a quiet alley, near the shopping streets and a stone's throw from the large Moulay Hassan square which opens onto the port and the beach. Everything is nearby: beach, restaurants, shops, markets, craftsmen, guarded car parks, etc... Access to the premises is easy from Place Moulay Hassan or Bab Sbaa.
Golf at 6 km, Essaouira Mogador international airport at 17 km.
Supratours terminal and taxi ranks a few minutes walk away.
The house: This is a fully refurbished dar (private riad). The total living area is approximately 180 m² plus 50 m² of terraces.
The set was completely renovated 3 years ago by the new owners.
Ground floor: The entrance is via a staircase which leads guests directly to the first floor. The floors alternate tiles and bejmat, the walls and ceilings are white.
First floor: Guests are welcomed in a patio organized into several living areas. Patio, living room with fireplace, reading area, dining room and equipped kitchen.
A bedroom with its adjoining bathroom Second floor: A cement tile staircase leads to the second floor.
A passageway around the patio leads to two bedrooms, one of which has a fireplace and a bathroom equipped with a shower and a washbasin. Bathroom. The bathroom is covered with tadelakt.
Third floor: This level is semi-open, the space being divided between terrace and elevations around the patio. American kitchen with living room and fireplace as well as a last double bedroom complete the set.
Fourth floor: It is composed of a large terrace equipped with a large living/dining room under a pergola and a solarium.
Very nice sea view.
Price: 850 euros per week.
Linens provided.
Preparation of meals: 100 dhs excluding shopping charges.
Description produced by Immobilière d'Essaouira © all rights reserved
Property in excellent condition and very well maintained.
Unanimity of the tenants who stayed there concerning the excellent quality/price ratio.
Review by Immobilière d'Essaouira © all rights reserved