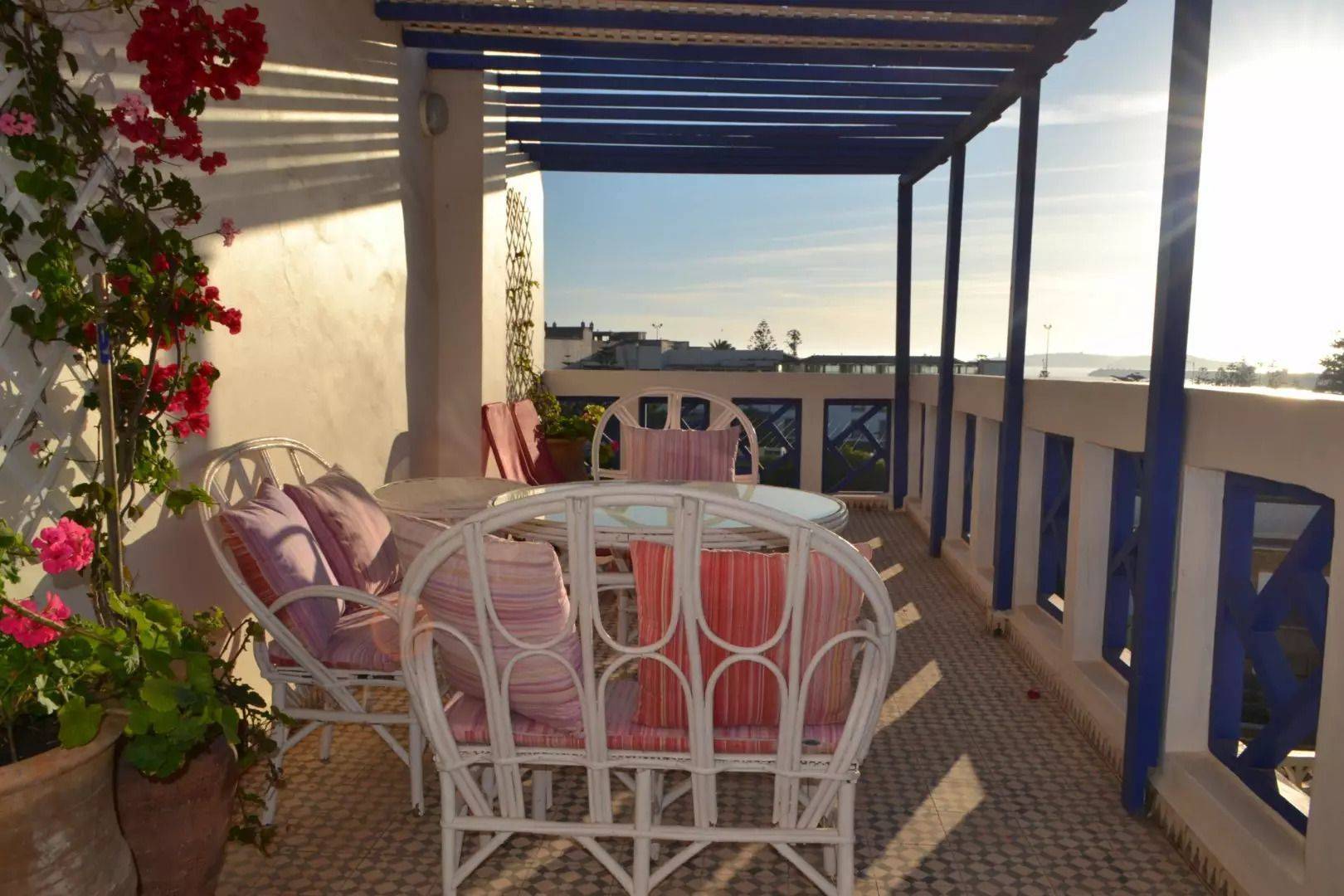 Construite à la fin du XVIIIe siècle, c'est le coeur historique de la ville et le principal centre d'activité avec le port. Entourée d'une muraille de style Vauban, la Medina est protégée par des fortifications où le style européen se mélange harmonieusement avec le style arabo-musulman. La Sqala de la Kasbah est un exemple accessible et ouvert au public de ces fortifications où les murs subissent encore les assauts de l'océan. A l'intérieur, le dédale des ruelles partage les quartiers et les différents souks. Assez organisé malgré tout, le souk propose tout type de produits. Les vêtements y côtoient les épices, les colliers, bracelets et autres articles succèdent aux olives et autres fruits et légumes. On y trouve de nombreux restaurants où le poisson frais pêché de la matinée est cuisiné au déjeuner ou au dîner. De nombreux autres plats typiques sont aussi proposés et il fait bon s'arrêter sur une terrasse, à l'ombre rafraîchissante des arbres. La Medina a été classée au Patrimoine mondial de l'UNESCO en 2001.
Location: Behind the high walls, between the land and the ocean is the medina of Essaouira, listed as a UNESCO World Heritage Site. The property is located in the heart of this authentic city, in a quiet lane near one of the most important shopping streets.
Several guarded car parks for parking outside the medina, quick access on foot.
Essaouira Mogador airport with 3 connections per week with Paris Orly at 18 kilometers.
For recreation, beach on site, Mogador golf course 8 kilometers away, horse, camel or quad rides on site.
Le Logis: This is a riad, largely redesigned for more comfort and style. A facade on the street side, discreet and sober, painted white, a facade on the sea side.
It rises on three levels, plus a furnished roof terrace and a solarium. The total living area is approximately 300 m².
Ground floor: The entrance leads to a vestibule. Large arcaded reception room with light effects, with dining room.
2 lounges with library.
A fully equipped kitchen completes the ground floor. The floors are tiled, painted walls and ceilings.
First floor: A staircase leads to the first level. It is organized around a patio opened by a skylight. Two bedrooms and a small "teenager" bedroom. Service room. Bathrooms.
Second floor: It is organized around the patio, a wide passageway serves the rooms. 2 other bedrooms with bathroom complete the 2nd floor. The floors are tiled, the walls painted, the ceilings wooden.
Third floor: The staircase continues up to the upper level, the space of which is shared between terraces and TV lounge Protected terrace facing south, enjoying several views of the Ocean and organized into different spaces: solarium, living room, dining area and small hanging garden.
A staircase leads you to a final dining area with a magnificent view of the ocean.
Price: from 650 euros per week.
High speed WIFI Linen provided.
Housekeeper presence 6 hours per morning.
Preparation of meals: 100 dhs per meal excluding shopping charges.
Baby-sitting: 200 dhs per evening.
Partner prices for Mogador golf access and Sofitel 5-way Spa.
Description produced by the Immobilière d'Essaouira © all rights reserved
Attractive price and location for a maximum capacity of 8 people.
Property appreciated by many tenants who have stayed there, with family or friends.
Sunset with stunning views.
Notice carried out by the Immobilière d'Essaouira © all rights reserved