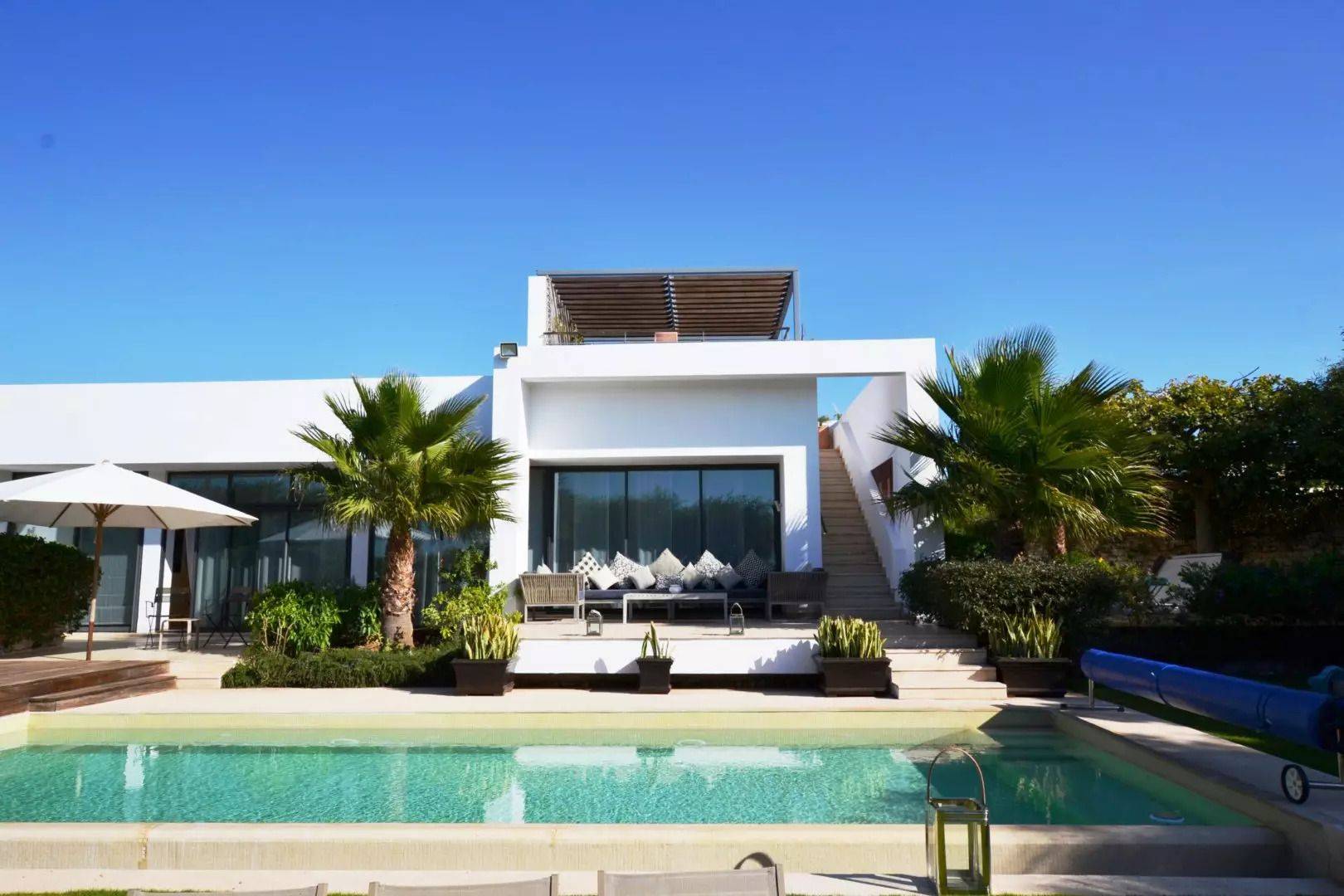 Aux portes d'Essaouira, le Golf de Mogador s'installe sur les hauteurs du village de Diabat, au pied du magnifique hôtel 5* Sofitel Mogador Golf & Spa. Dessiné par Gary Player, il est devenu la référence incontournable des destinations golfiques au Maroc et a su gagner une forte renommée depuis son ouverture en 2009 et propose 2 parcours: un de 18 trous et l'autre de 13 trous. C'est sur ce domaine de 580 Ha que 37 villas privées ont été construites pour le plus grand bonheur de leurs propriétaires. Basées sur un site totalement sécurisé et naturellement végétalisé, les villas jouissent d'un emplacement unique. La demande locative est très forte pour les villas du golf de Mogador.
Contemporary villa with an accomplished character, tastefully decorated and absolutely equipped for an occupation of the premises without lack.
Located in the secure resort of the villa area of Golf de Mogador, in the middle of a line of 9 villas, the house is on one level, built on a private plot of 1612 m².
It offers 320 m² covered in a modern building with large bay windows enjoying a view of the garden and the heated swimming pool.
Entrance to the premises is through a massive Berber-type door, reminding guests that Moroccan craftsmanship is not irreconcilable with modernity. A hall distributes the living area on the right and the sleeping area on the left. Opposite, a movie theater will appeal to technology enthusiasts. Indeed, it is equipped with a video projector concealed in the wall, a BOSE home cinema system, a projection screen and a large smart TV. Covered with a glass roof, it is possible to create a real cinema atmosphere by activating the upper roller shutter. Moviegoers will sit on a linear bench and can enjoy a wide choice of films in the video library.
The living space is imagined in a row, benefiting from large double-glazed aluminum bay windows offering a magnificent view of the outdoor terraces, the lawned garden, planted with palm trees and various flowering hedges and the heated swimming pool. On the left, a living room and its fireplace adorned with cut local stone, a nod to the possible alliance between local materials and standing.
In the center, a dining area, adorned with an imposing dining table that can accommodate up to 8 guests, is separated from the kitchen by a majestic custom-made wine cellar with high storage capacity. Lovers of fine wines will be delighted by this work highlighting the dining room. On the right, the kitchen confirms that the premises are dedicated to epicureans who will be able to test their chef's talent thanks to the various professional equipment and accessories. The return of this living wing houses a second service kitchen as well as a staff bedroom with bathroom and television.
The sleeping area has 3 bedrooms and their bathroom, all equipped with dressing room and office area. The master bedroom offers a high level of comfort, in particular thanks to its top-of-the-range bathroom, equipped with a hip bath and a shower room with multi-directional jets designed by Philippe STARCK. The whole is simply magnificent and certain details such as the leather square floor and the use of precious wood confirm that the property is of a high standard.
The exterior is not to be outdone in terms of invitation to relax: First of all, the swimming pool heated by heat pump to enjoy temperate baths all year round, but also the 4-seater spa built into a terrace in wood. Here and there, several spaces and terraces for lunch. Finally, a well-made staircase gives access to a solarium protected from the wind and the sun, equipped with an outdoor gym (with a rowing machine and an indoor bike).
On the technical side and miscellaneous:
- A garage/workshop that can house a golf cart or quad
- Fitted laundry room with storage cupboards, washing machine and dryer
- Technical room with electrical panels and domestic water heater
- 3 private places for cars
Description produced by Immobilière d'Essaouira © all rights reserved
Titled property.
Magnificent gardens.
Luxury furniture and decoration.
Access to the golf course from the villa.
Sold furnished excluding paintings.
RARE PRODUCT TO SEE ABSOLUTELY
Review by Immobilière d'Essaouira © all rights reserved