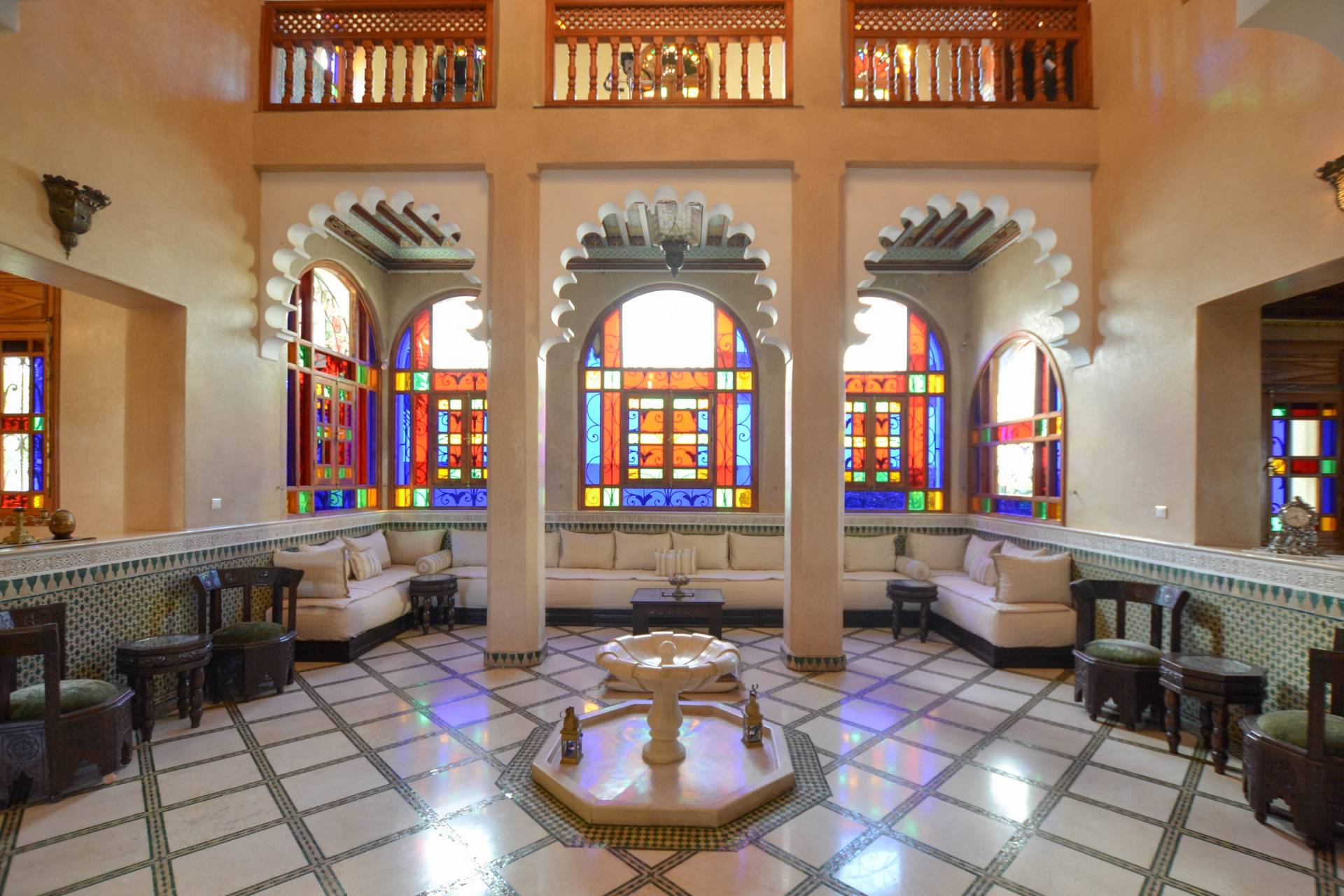 In the heart of the new city of Essaouira, and 300 m from the beach, this residence of 900 m² of living space on 3 levels is opulent and unexpected.
It sits at the strategic crossroads of the city, where local shops rub shoulders with the offices of notables or even the administrations of the Kingdom as well as the private clinic.
On the ground floor, the many traditional Moroccan lounges and a patio with a fountain under a dome, as well as a bedroom with a bathroom give rhythm to the atmosphere of the place.
On the 1st floor, a landing converted into a western-style living room leads to an intimate Moroccan living room, 2 bedrooms with private bathrooms and a majestic master suite with private terrace, dressing room and bathroom.
On the 2nd floor and on the roof is a 300 m² terrace as well as a Berber room with cedar ceilings.
In the basement, a space of 300 m² dedicated to staff, there is a kitchen and scullery, a pantry, a hammam and its rest room, two bedrooms and a bathroom. The living room, open to the garden, is large with an adjoining Moroccan lounge.
This level can be considered to fit out a restaurant kitchen, a SPA, an apartment….
On the garden side, a technical room, a bedroom for the caretaker and a paved driveway leading to a garage with the possibility of parking 3 cars.
The precision of the details in terms of decoration and volumes make this place a real oriental palace worthy of the tales of a thousand and one nights.
Note among others: vitrified or matte Moroccan marble on the floor, tadelakt or zelig on the walls, carved cedar wood doors, wooden roller shutters. As for the ceilings, they are made of thuya root, cedar, plaster moldings or even painted wood where numerous inlaid halogen lamps sift the atmosphere in the middle of suspended scintillating chandeliers.
Price: €670,000 (or 7,000,000 Dirhams)
Sold empty
Land title
Exceptional Palace
Description produced by Immobilière d'Essaouira © all rights reserved
An exceptional living environment, with imposing volumes where oriental charm operates in the heart of the new city of Essaouira.
The team of L'Immobilière d'Essaouira is at your disposal for any further information.
Garage
Parking
Solarium
Hammam