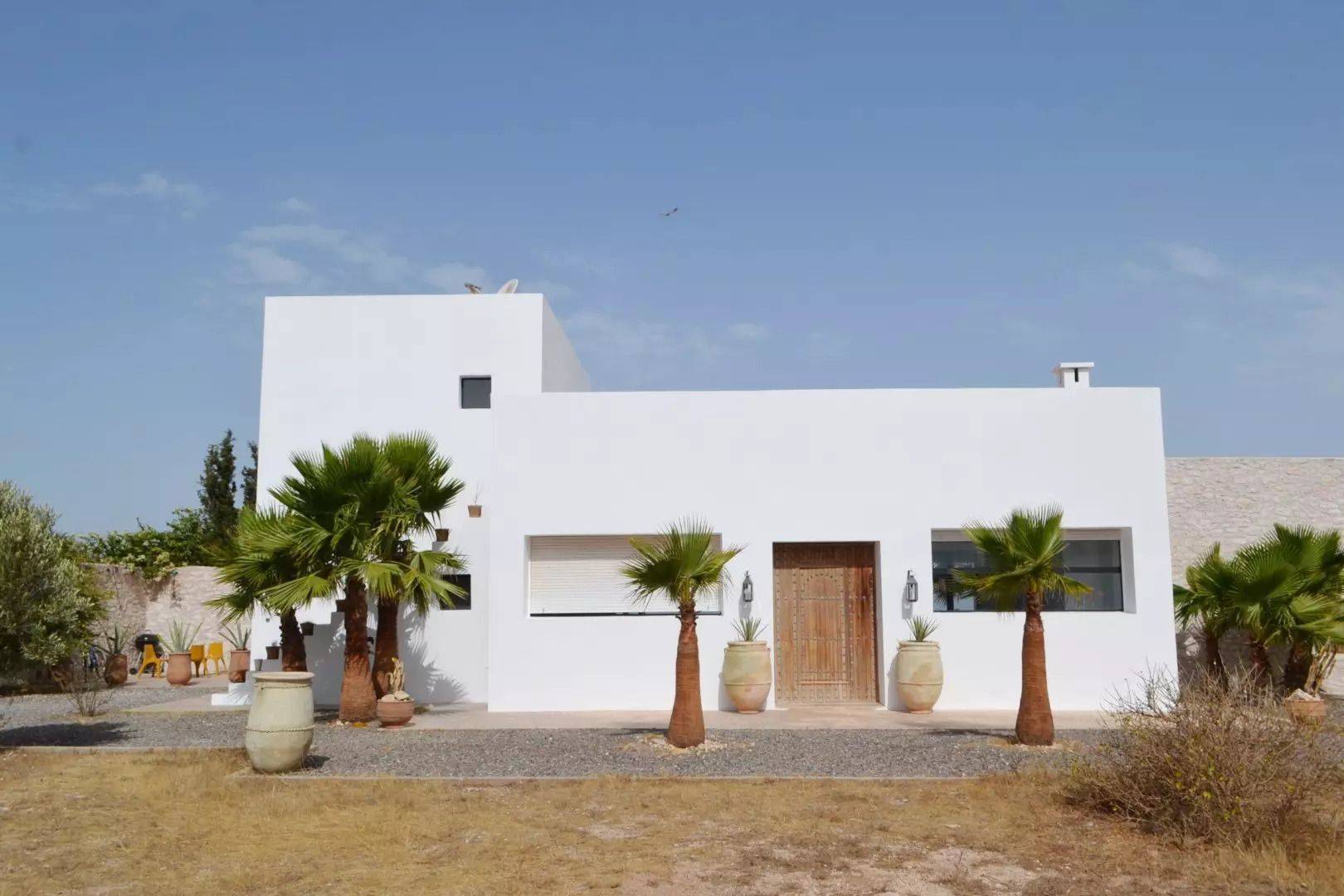 About fifteen kilometers from Essaouira, on the Atlantic coast.
The countryside is made up of hillsides where argan trees and olive trees grow abundantly. The habitat is scattered, alternating small harbors, farms and villas according to the dry stone walls.
The coast is protected and therefore unbuildable in the front line, the property is located not far from this limit, guaranteeing visual protection of the premises.
Access is by a very passable regional road, then by a good 500-meter track which crosses a small cedar wood before arriving on a natural terrace overlooking the ocean and the countryside where the property is located.
Beaches about 2 kilometers away.
Essaouira Mogador airport 30 kilometers away.
The property: It is rectangular in shape and extends over approximately 11,000 m². The set is fully enclosed by a recent stone wall. The first two thirds of the land are natural, planted with many argan trees, olive trees and other thickets. The private track winds through the vegetation before arriving in a gravelled courtyard where the villa is located.
On the other side, a wild garden in formation and a beautiful view of the ocean and the 14m x 4m swimming pool. The neighborhood is formed by an opulent villa currently second home, if not only fields and nature.
Ground floor: It is divided into 3 "blocks": reception, service and night. The entrance is in the first block of 60 m² forming a single volume and opening wide onto a 47 m² terrace facing the ocean.
Large living room/living room with fireplace and dining area. Guest toilets.
In another block, fitted dining kitchen opening onto the ocean, utility room/scullery with service entrance, toilets.
The third block is also facing the ocean. A corridor leads to four bedrooms with adjoining bathrooms equipped with shower, sink and toilet.
All rooms open outwards through bay windows.
First floor: The master suite is located on the first level, guaranteeing complete privacy. Bedroom with adjoining bathroom equipped with a shower, double basins and toilets. Dressing room. Ocean view.
Panoramic terrace of 62 m² accessible from an external staircase or from the suite on the first floor.
Description produced by Immobilière d'Essaouira © all rights reserved
- built in 2008
- land title
- Final VNA and residence permit
- autonomy in electricity with solar installation and connection to the National Office of Electricity
- buried water reserve and water tower
- septic tank
- ocean view
- absolute calm
- big pool
The situation facing the ocean in a preserved environment and almost without neighbors is attractive. The architecture is minimalist, the volumes are organized into several blocks. The premises have been designed so that all rooms have a view of the ocean.
The land has interesting potential to become a pleasant garden.
Review by Immobilière d'Essaouira © all rights reserved
Piscine
Gardien
Vue sur mer