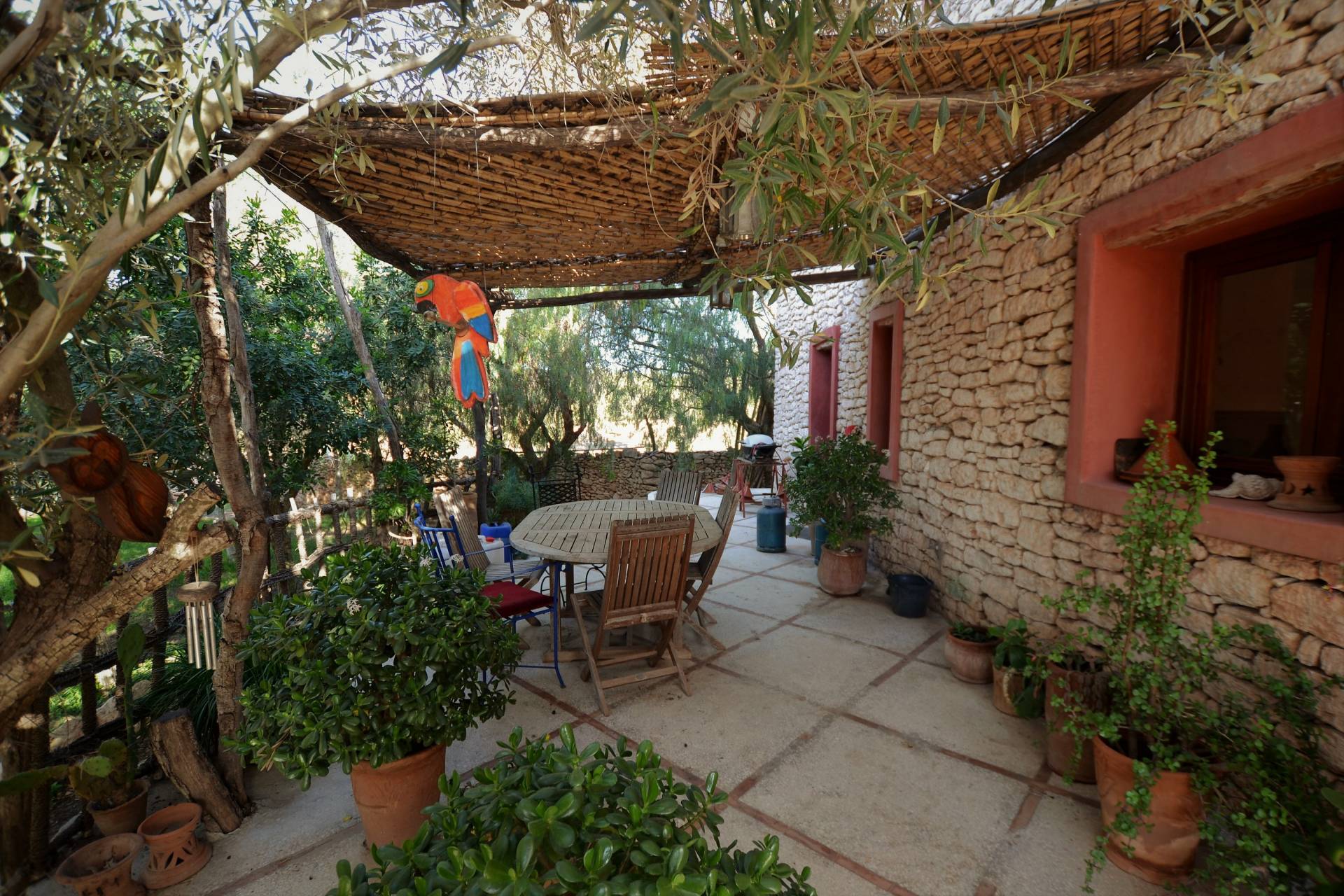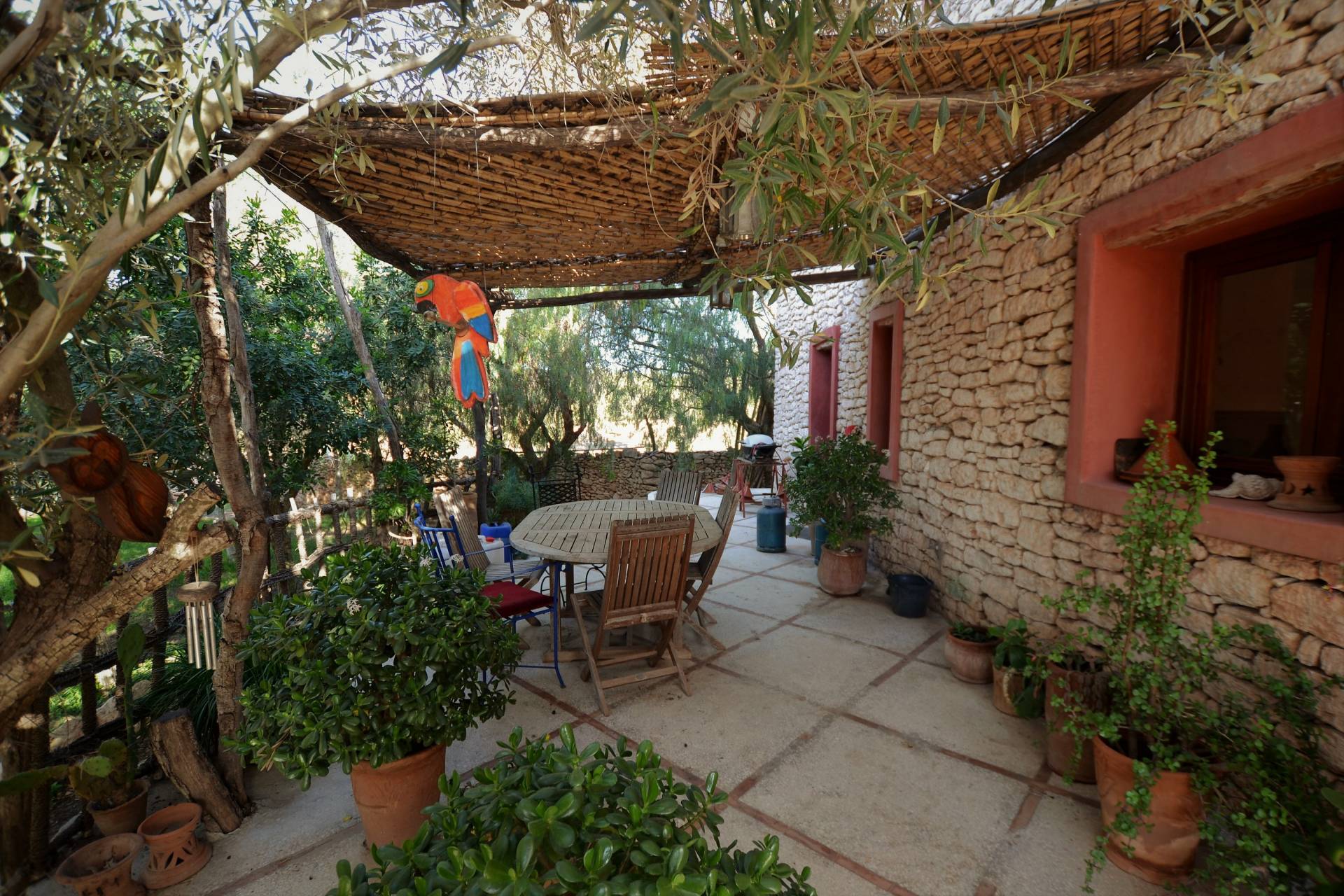 It is in the heart of a forest mixed with thuyas, argan trees, fig trees and olive trees that this site of almost 4 hectares reveals the exceptional and natural side of the place.
Camping-Caravanning
Operated in Category 2 Camping-Caravanning since 2012, the park consists of 36 camping pitches, connected to water and electricity, a wooden bungalow and tarpaulin type hangings including an equipped kitchen, 2 bedrooms, a living room and a terrace.
Authorizations have been issued to build 5 additional bungalows in lightweight materials, a second one already having its base built.
Play areas
Playgrounds sometimes perched in the trees, sometimes anchored in natural ground open the minds of young and old alike to improvise as adventurers.
For calmer temperaments, an 18-hole mini-golf course will delight strategists or simply amuse with its playful side.
The vegetable garden
In the middle of the fruit trees is a permaculture vegetable garden, thus respecting biodiversity and an autonomous ecosystem.
The house
A house of 250 m², in local stone, is located at the back of the campsite, remaining discreet and thus separating the camping area from the playgrounds in order to respect the tranquility of the residents of the site.
It is composed of a terrace shaded by a wooden pergola, thus offering a fresh and natural dining area. At the entrance, a scullery and a kitchen with central island open onto a dining room and a recessed living room with a wood stove.
A central patio serves a good-sized workshop, a bedroom and a bathroom as well as access to the upper floor.
The sleeping area landing leads to the other two bedrooms of the house, a toilet and a bathroom. The two bedrooms have a large terrace with a breathtaking view of the surrounding forest.
The aquatic area
A swimming pool with its sunbathing area is surrounded by lounges under a laaricha (pergola in Arabic) allowing meals to be taken or simply to relax, a caidale-type tent to celebrate parties, have a meal or even relax. lie down on the comfortable benches.
Overlooking the pool and firmly secured to the technical room, a crane with a rope will delight the daring for dives of all kinds.
Technical side
The estate is supplied with water by two boreholes which supply two water towers, redistributing themselves each sector by three boosters.
Two septic tanks are buried to ensure the evacuation of waste water
Price: €600,000 mature and goodwill
Authorization to operate in 2nd category camping-caravanning
Definitive VNA
Land title
Description produced by Immobilière d'Essaouira © all rights reserved
An exceptional site just 15 minutes from Essaouira, nestled in the heart of a forest with significant exploitation possibilities.
Enclosed and wooded park for nature lovers with an existing, serviced and autonomous infrastructure.
Rare product.
For more information, the team of L'Immobilière d'Essaouira is at your disposal.
Piscine
Parking
Gardien
Cheminée
Terrasse
Vue dégagée
Exposition Sud
accessibilité